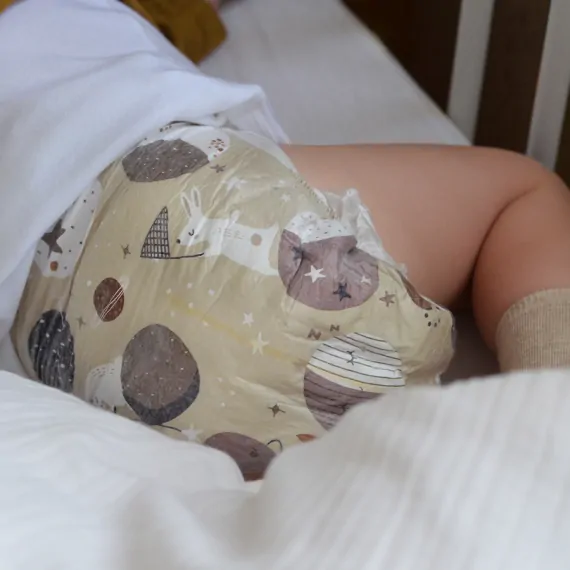 KOLORKY NIGHT MOMENTS - Universe
KOLORKY NIGHT MOMENTS thinks about your baby's peaceful night, his health, about the nature around him and beautiful design. Thanks to the extra absorbent layer, you can be sure that baby will stay dry all night long.
Availability:
In stock > 5 pc
Description and parameters
Reviews
Specifications
Description
We care about nature and also about curriers. In order not to send half-empty boxes it is only available to order even numbers, as our boxes are designed for such numbers. Thank you for your understanding.
KOLORKY NIGHT MOMENTS are designed to fit the baby well, not to squeeze him anywhere, to be breathable and everything stays in place. The absorbent core consists of a perforated non-woven fabric, a compressed pulp layer and a SAP gel. This makes the diapers very thin and does not restrict the baby's movement. The patented Flash dry technology, ensures that the liquid is quickly drawn away from the baby's skin and firmly locks in the core not only liquids, but also odors. In addition, absorbent channels ensure that fluid is distributed throughout the absorbent core and does not accumulate in one place. KOLORKY wick moisture away quickly and leave baby's skin dry and calm. Of course, there is a moisture indicator that tells you when nappy needs to be changed. All our diapers are dermatologically tested and certified by the State Institute of Health - SZU.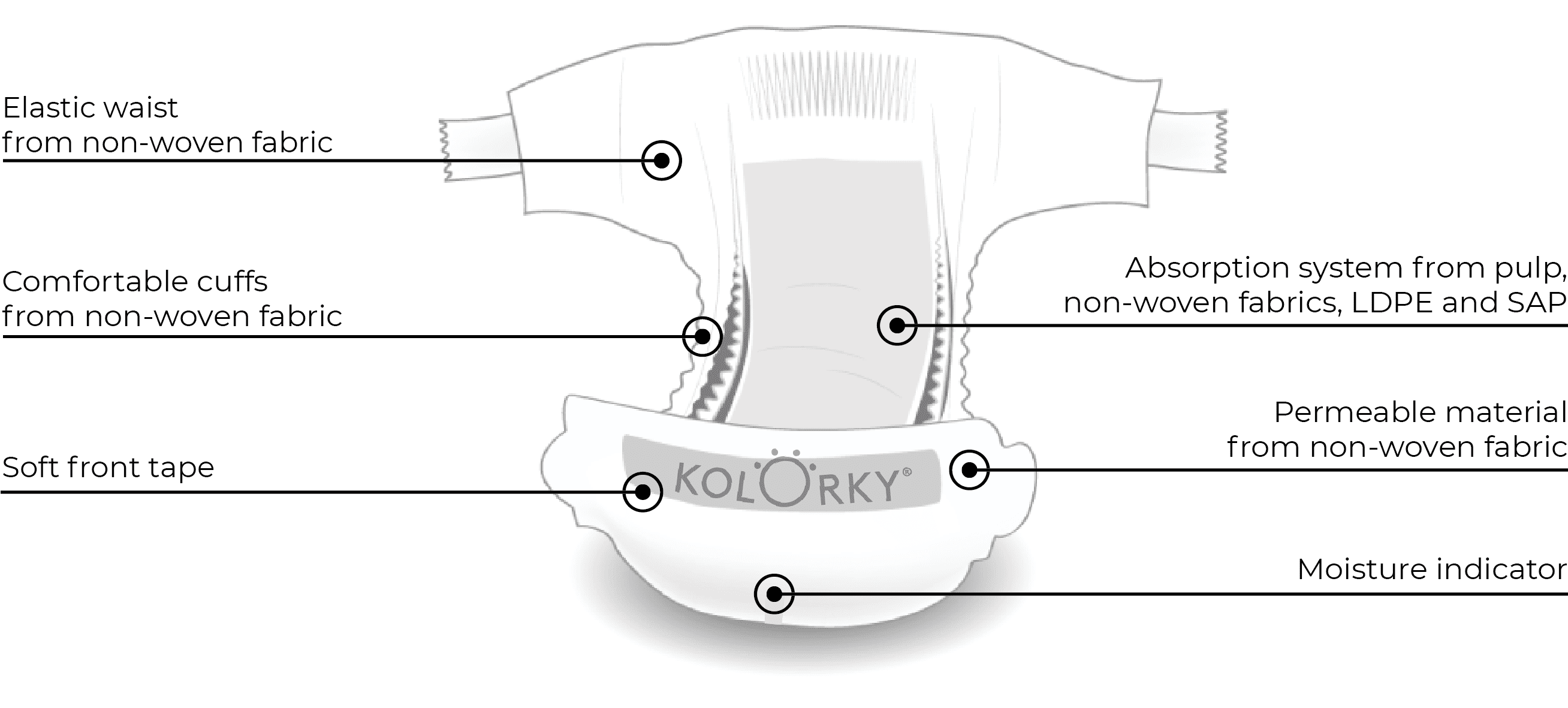 Patented absorption channel technology
These channels allow the fluid to be spread evenly over the entire absorbent core and not accumulate in one place.
Flash Dry layer
Instantly get fluid away from baby's skin, lock in moisture and leave skin dry for up to 12 hours.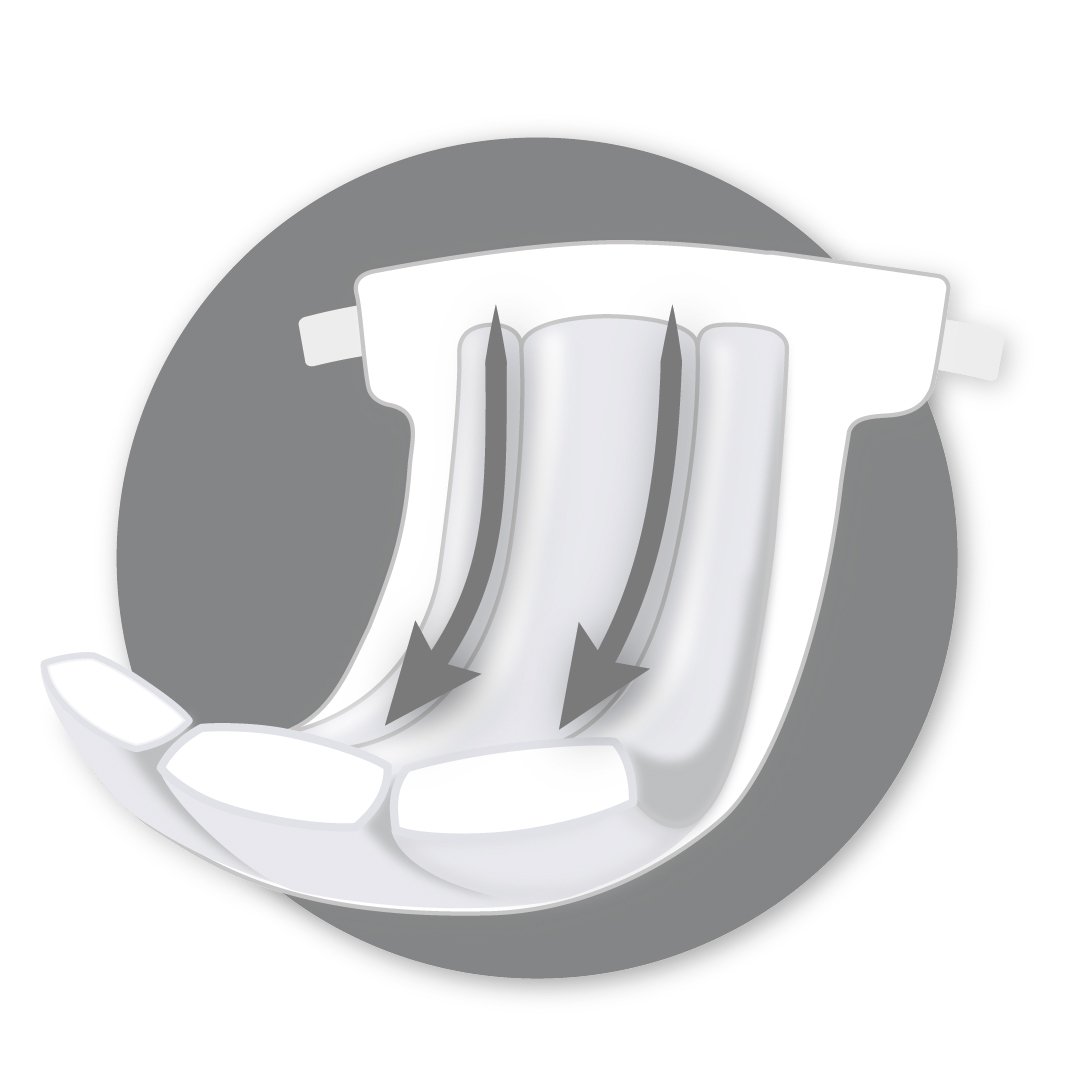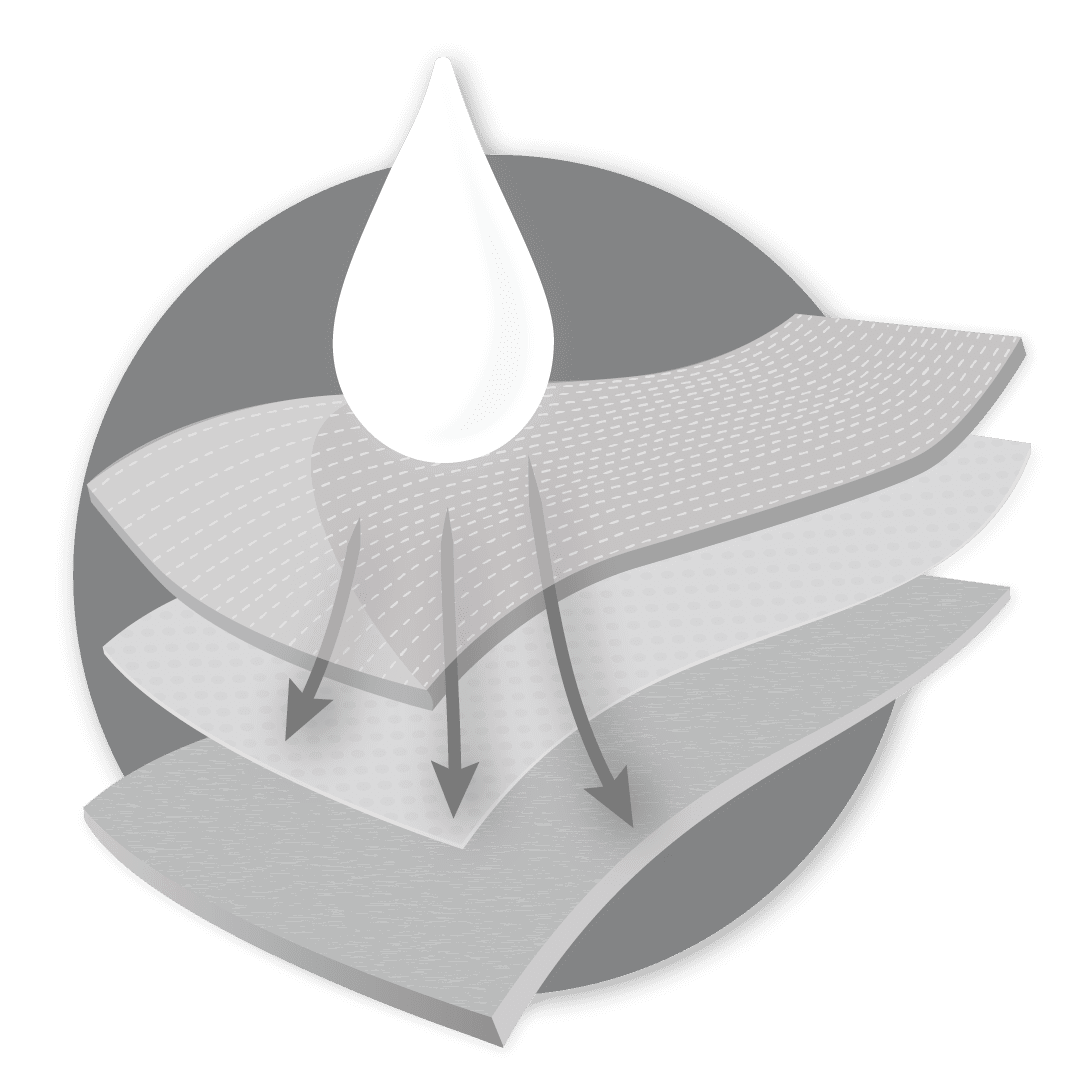 We produce KOLORKY NIGHT MOMENTS in sizes L and XL, but please note that the XL size is also for older children, as it is up to approx. 25 kg of the child's weight. What about the design? Children and parents will surely be delighted with the adventures of the cute bunnies in the universe that will guard your children's peaceful night.
Read all about the materials we use in the production of our diapers and their origin.
Pulp
Pulp is a renewable raw material that has excellent properties. It is highly absorbent, soft and strong. It is a softwood fluff (pine and spruce) grown in Sweden. The wood for the pulp comes from sustainably and carefully managed forests and is 100% traceable, thus complies with FSC certification. Since a baby is in a diaper almost constantly during the first two years of its life, we consider it important to monitor the way the pulp is bleached. Bleaching is not done with chlorine, but with the TCF (total chlorine free) method, which uses oxygen, ozone or hydrogen peroxide. Chlorine leaves small amounts of toxic dioxins in the nappy, which can have a significant effect on the baby's development and affect its immune, hormonal and nervous systems. Where and why is the pulp in the diaper? It is placed over the entire surface of the absorbent system to reliably wick moisture away from baby's sensitive skin.
SAP
SAP, or superabsorbent polymer gel, is a widespread organic compound that has not been shown to have toxic or harmful properties. They are tiny crystals that absorb up to 300 times their weight and also absorb odours. The use of the gel is more environmentally friendly, as if nappies did not contain the gel, their consumption would be significantly higher, increasing the amount of waste produced. SAP is recyclable but unfortunately not biodegradable. However, we can assure you that it does not pollute the environment thanks to its non-toxic properties. Where and why is it in the nappy? SAP is antibacterial and absorbs liquid and odor in the absorbent system of the diaper, so your baby's skin stays dry and protected from diaper rashes and irritation.
LDPE
LDPE is a non-toxic and recyclable plastic that you come across every day. Where and why is it in a diaper? LDPE is in the nappy as a thin film in an absorbent system to protect against fluid leakage. You will also find it in adhesive tapes. This layer also makes sure that the diaper sticks nicely and doesn't push. The LDPE film is the part of the nappy, on which we print our original designs using inks.
Non-woven fabric
It is breathable and lightweight fabric. You can think of it as a very durable textile that is created by lengthening and folding natural or synthetic fibres. Where and why is it in a nappy? It runs through the entire absorbent system and is also used on the fastening strips.
Glue
Hot-melt is an adhesive that is made up of synthetic rubber. It is applied hot in a molten state. Where and why is it in the diaper? It makes the diaper stick together. The glue is also used on the moisture indicator.
Elastan
Elastane is a synthetic polyurethane fibre that is highly elastic. Where and why is it in a diaper? It is used for the side cuffs to make them stretchy, wrap around the baby's small leg and not leak anywhere.
Origin of KOLORKY NIGHT MOMENTS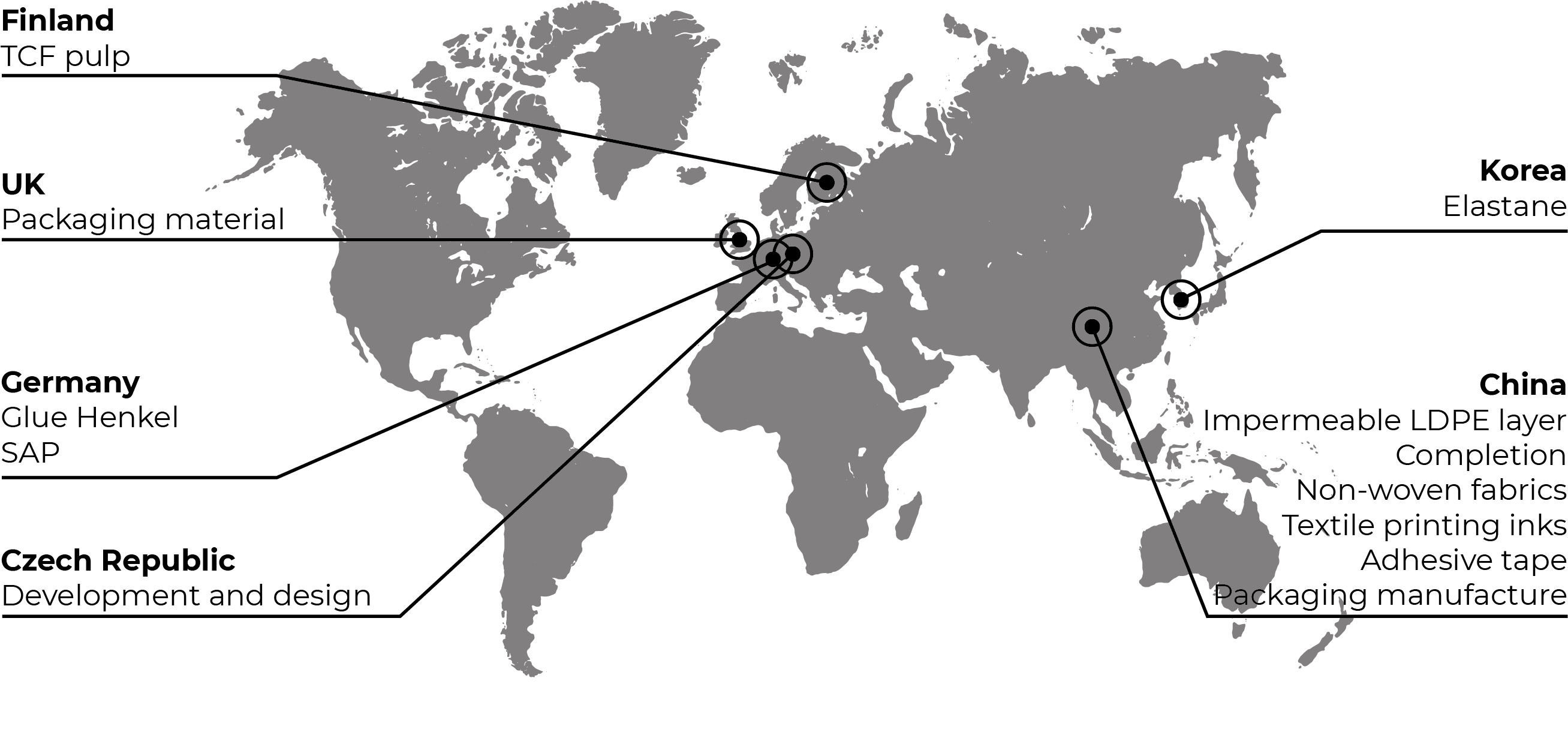 Our certificates:

ECO
Diapers are made from natural and renewable materials, without the use of chlorine, latex or other harmful substances and meet the conditions for commercial certification of ECO products.
TCF - Total Chlorine Free
The pulp is bleached completely without the use of chlorine, using oxygen, ozone or hydrogen peroxide.
100% green electricity

CO2 neutral production
The diapers are made in a factory that is certified CO2 neutral. The factory is aware of its emissions, not only trying to reduce them, but regularly offsetting emissions by supporting certified climate projects. 
Dermatologically tested
The diapers undergo strict controls and are dermatologically tested. They meet the requirements of products that come into contact with delicate baby skin.
Parfume free
Diapers are not perfumed.
Vegan
The product does not contain any animal ingredient. Of course, the product is not tested on animals (in the EU it has been forbidden to import or sell cosmetic products tested on animals since 2013).
FSC - Forest Stewardship Council®
The materials for the diapers come from sustainably and carefully managed forests and are 100% traceable.
The packaging is made from 15% recycled plastic.
Specifications
Number of pieces in the package:
Evaluation of our customers